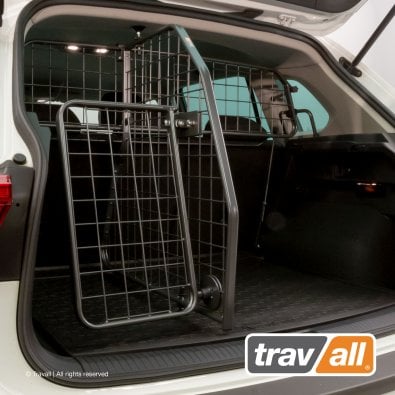 Travall® TAILGATE
Out of Stock
PLEASE NOTE: This requires the matching vehicle Travall®GUARD and DIVIDER, which are supplied separately. Dependent upon the design and your installed configuration of theGUARD and DIVIDER in your vehicle, TailGate can be ordered to suit a DIVIDER installed in either a central position (50:50) or offset LH (40:60) / offset RH (60:40)*. Each TailGate are a fixed size, and ARE NOT interchangeable between different fitment positions.
A premium quality tailgate guard that acts as a deterrent to stop an excited dog from bolting from the car when the boot is opened.  This companion piece to the Travall Guard and Divider ensures your dog has an even more secure position at the rear of your vehicle and offers a stylish and affordable alternative to dog crates for cars. The Travall TailGate also offers the ultimate boot organisation system, by giving you the ability to further compartmentalise your boot.
The ideal companion to the Travall Guard and Divider.
An affordable and stylish alternative to a dog crate.
Deters your dog from bolting from an open boot.
Sturdy, rattle-free design to complement the Travall Guard and Divider.
Neatly folds against the boot divider when not in use.
Sleek, grey powder-coated finish to coordinate with other Travall accessories.
Lifetime warranty against manufacturing defects.
Introducing the ALL-NEW Travall® TailGate
Learn more about this new and innovative product that has been developed and produced by Travall to be used in conjunction with the Travall Guard and Divider. The Travall TailGate offers an alternative to a dog crate. It puts you in full control by providing a tailgate barrier that acts as a deterrent to your dog leaping from the boot when you open the lid. So your next adventure starts? when you?re ready! https://www.travall.co.uk/
How to install a Travall® TailGate
This video shows how easy it is to install the Travall TailGate in your vehicle, whether you are adding a single barrier or two barriers at the tailgate of the car. This product offers the ideal alternative to a dog crate and was designed and developed by Travall to coordinate perfectly with the Travall Guard and Divider. The Travall TailGate puts you in full control by providing a deterrent to your dog leaping out of the boot as soon as it is opened. So your next adventure starts? when you?re ready! https://www.travall.co.uk/
| | |
| --- | --- |
| Brand | Travall |
| Warning: | PLEASE NOTE: This requires the matching vehicle Travall®GUARD and DIVIDER, which are supplied separately. Dependent upon the design and your installed configuration of theGUARD and DIVIDER in your vehicle, TailGate can be ordered to suit a DIVIDER installed in either a central position (50:50) or offset LH (40:60) / offset RH (60:40)*. Each TailGate are a fixed size, and ARE NOT interchangeable between different fitment positions. |
Frequently Asked Questions